Theory of Quantum Gases and Quantum Coherence
Fourth International Workshop
Grenoble (France)
June 3 - 7, 2008
---
LOCATION OF THE WORKSHOP
The workshop will be held at the CNRS campus, known as the "Scientific Polygone", address: 25 rue de Martyrs, 38042 Grenoble, in the main CNRS auditorium, located in the building A (CNRS main tower, hosting the reception or "accueil"), at the second floor.
On June 3rd, registration will start at 3 pm at the Hotel Europole, and a welcome buffet will be served at the Hotel Europole starting from 7 pm.
How to get to the "Scientific Polygone"
From the Grenoble train station you can walk to the Scientific Polygone in about 15-20 minutes. Public bus transportation regularly serves the CNRS campus (there is a bus about every 10 minutes). The participants staying at the Hotel Suisse et Bordeaux should take bus number 34, direction "Polygone Scientifique" or "Sassenage: Le Château" in front of the railway station, the participants staying at the Hotel Europole should take bus number 30, direction "Gare de Saint-Egrève". Get down at the bus stop: Place de la Résistance.
Tickets can be purchased from the bus driver or in a booklet (carnet) from tobacconists or at tramway stations (automatic distributor). In 2007, a single ticket costs about 1,3 euros and a 10 tickets booklet 12 euros.

MAPS OF THE SCIENTIFIC POLYGONE AND PICTURE OF CNRS MAIN TOWER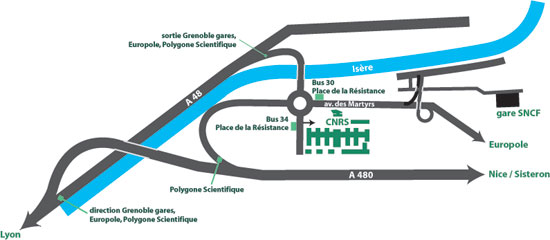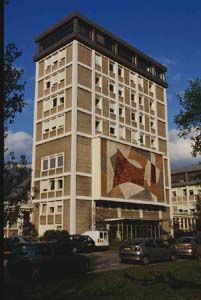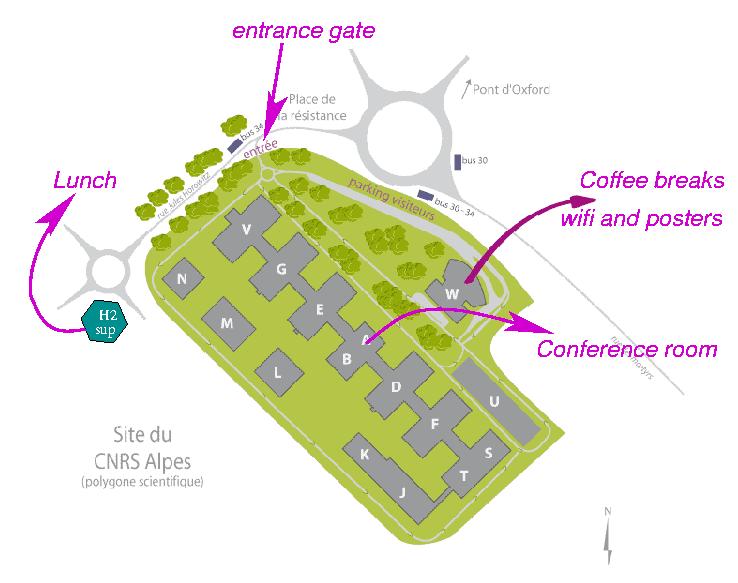 MAP OF THE HOTELS AND BUS STOPS